About Us
The sound of silence isn't always a wonderful thing.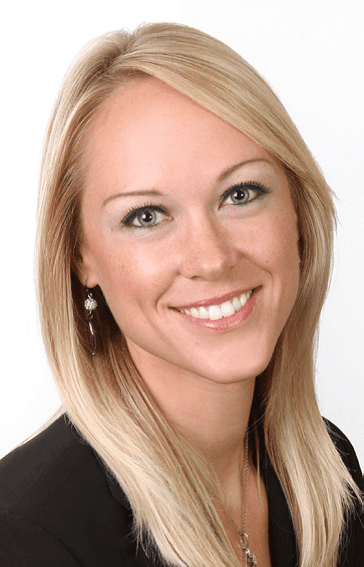 A Note from Our Owner & Founder
Dr. Lyndsey Bride, Au.D. CCC-A
It's important that your hearing care professionals have the education, experience and ethical standards necessary to treat your hearing loss most effectively. No matter what your budget, you can trust our knowledgeable team.
We are proud to announce that we are a Manatee Chamber of Commerce's 2022 Small Business of the Year Winner!
Friendly, Reliable Hearing Care
At Adept Audiology, we set ourselves apart by offering a level of care and commitment that far exceeds the standard of other hearing healthcare professionals. How do we do that?
You are our primary focus. We take the time to listen and learn about you and your specific hearing needs.
Dr. Bride is a medically trained audiologist. She is able to determine the cause of your hearing loss and make honest and appropriate recommendations. Hearing devices are not always necessary and should not always be recommended.
Dr. Bride stays up to date on the latest hearing research and product developments. She actively presents for local and national organizations, including Florida Telecommunications Relay Inc. and the Hearing Loss Association of America.
We work with ALL the top hearing device manufacturers, which means we are not owned by another company or committed to prescribing devices by just one or two companies. Our recommendations are truly suited to meet your specific hearing needs!
No Rush Appointments
Are you tired of being hurried and left feeling like you're not getting the best care? At Adept Audiology, we take as much time as you need to improve your hearing. By developing personal relationships and allowing ample time for appointments, we are able to recommend the best customized solutions.
Convenience
We believe hearing healthcare shouldn't be complicated. You should receive the care you deserve in a timely manner.
same day or next day appointments
flexible hours and evening appointments
in-home and in-community services
24-hour call backs from Dr. Bride
Affordability
Everyone deserves to improve their hearing. We offer quality, affordable hearing devices from all leading manufacturers. To ensure we find a solution within your budget, we offer entry-level, advanced, and premium instruments; payment plans, including 0% interest for up to 12 months; and affordable battery plans.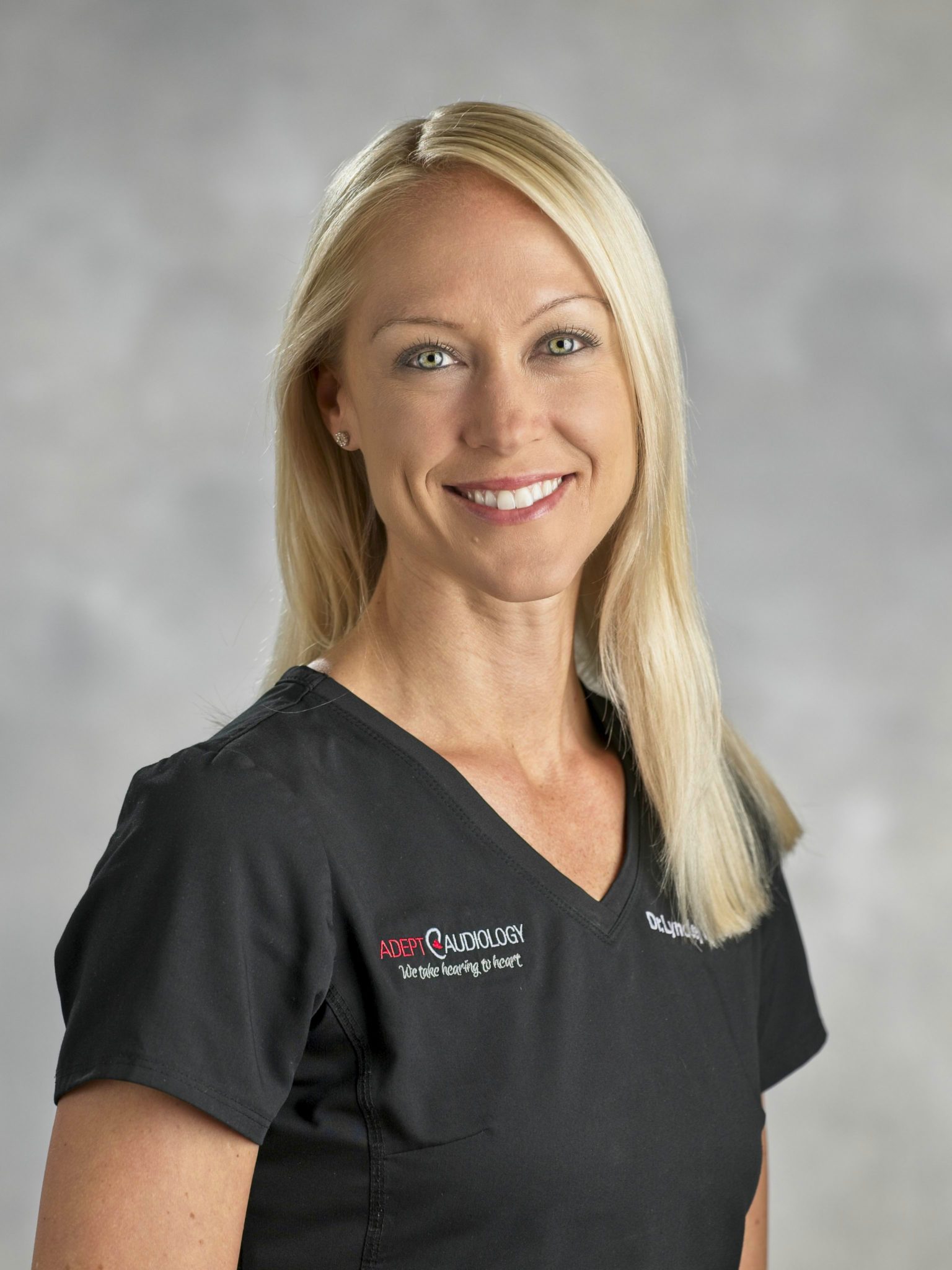 Dr. Lyndsey Bride, Au.D., CCC-A
Audiologist, formerly Dr. Nalu
Dr. Bride specializes in diagnostic hearing evaluations; detection of outer, middle, and inner ear pathologies; and advanced digital hearing aid fittings. She has conducted extensive research in the areas of audiologic counseling, aural rehabilitation, and assessment of bone anchored hearing devices.
A Michigan native, Dr. Bride received her Bachelor of Science Degree from Western Michigan University and her Doctor of Audiology degree from ACAE accredited Central Michigan University. She completed her clinical residency at Michigan Ear Institute, where she trained alongside leading neurotologists and audiologists. Dr. Bride is licensed in the in state of Florida and is a Fellow of the American Speech-Language and Hearing Association and the American Academy of Audiology.
Outside of the office, Dr. Bride loves spending time with her family! She loves outdoor activities including fishing, hiking, and biking and also loves to read and play games with her kids and husband!
Tonya Steed, Au.D.
Audiologist
Dr. Steed received her Bachelor of Science degree in Communication Sciences and Disorders and her Master's Degree of Science in Audiology from the University of South Florida. She completed her Doctorate in Audiology from AT Still University, Arizona School of Health Sciences in 2003.
Through her work at Johns Hopkins All Children's Hospital, Bay Pines VA Hospital, and collaboration with local ENTs she is an expert in assessing the hearing needs of patients of any age or ability.
Dr. Steed is a devoted wife and Mom of three children, one with special needs. She is excited to use her wealth of experience, knowledge and compassion to provide exceptional hearing care to adult and pediatric patients at Adept Audiology!
Ashley Schtakleff
Audiology Assistant
Originally from New York City, Ashley moved down to Florida with her family in 2006. Ashley has a passion for making a difference in people's lives. She enjoys traveling and exploring new places with her fiancé and spending quality time with her family.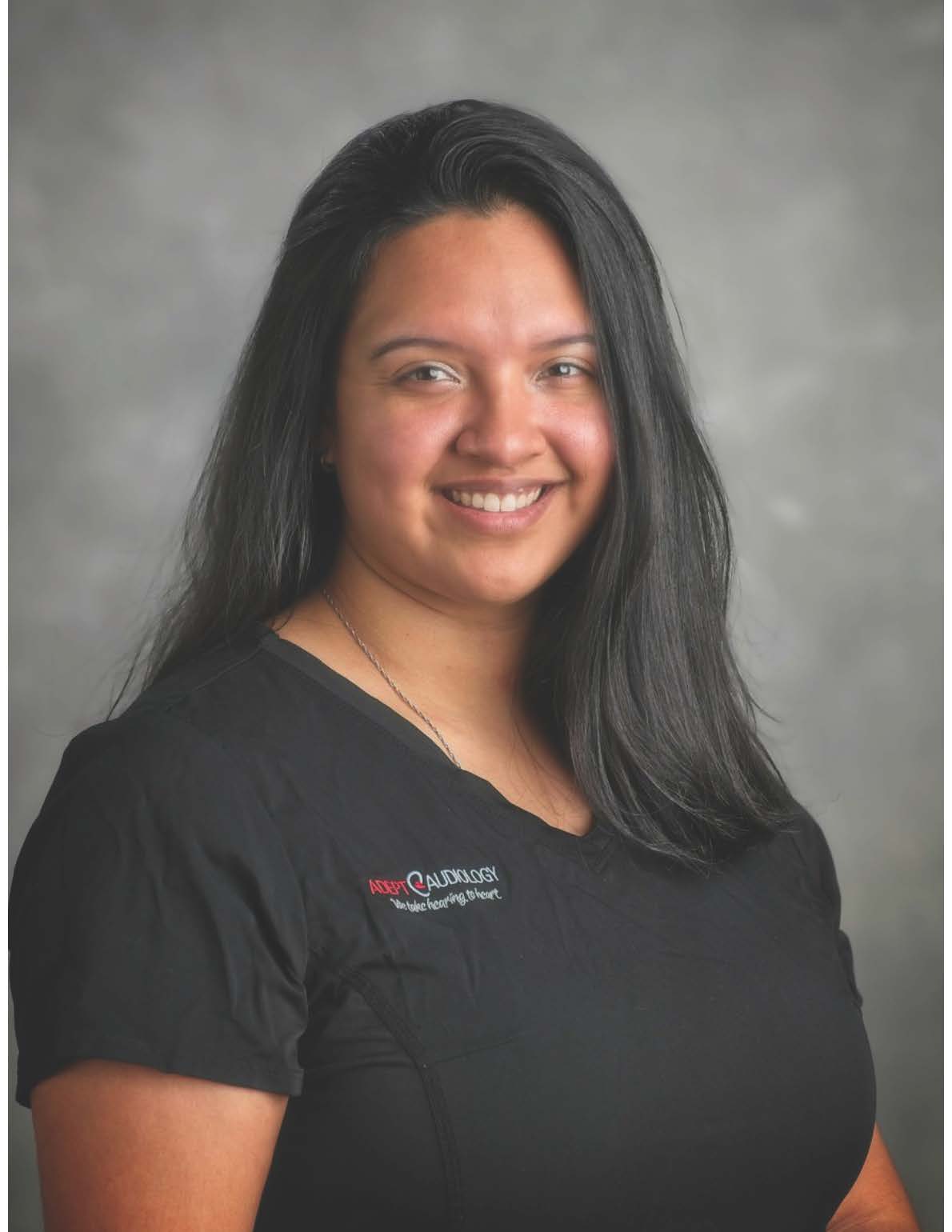 Ivonne Palacios
Audiology Assistant
Originally from Argentina, Ivonne moved to Florida with her family in 2001. Ivonne received her Bachelor of Science degree in Communication Sciences and Disorders from the University of Central Florida. She is currently enrolled in a program to receive her Audiology Assistant certification and license in the state of Florida. In her free time, Ivonne enjoys painting, trying new foods in different restaurants, playing with her cats, and spending time with her family.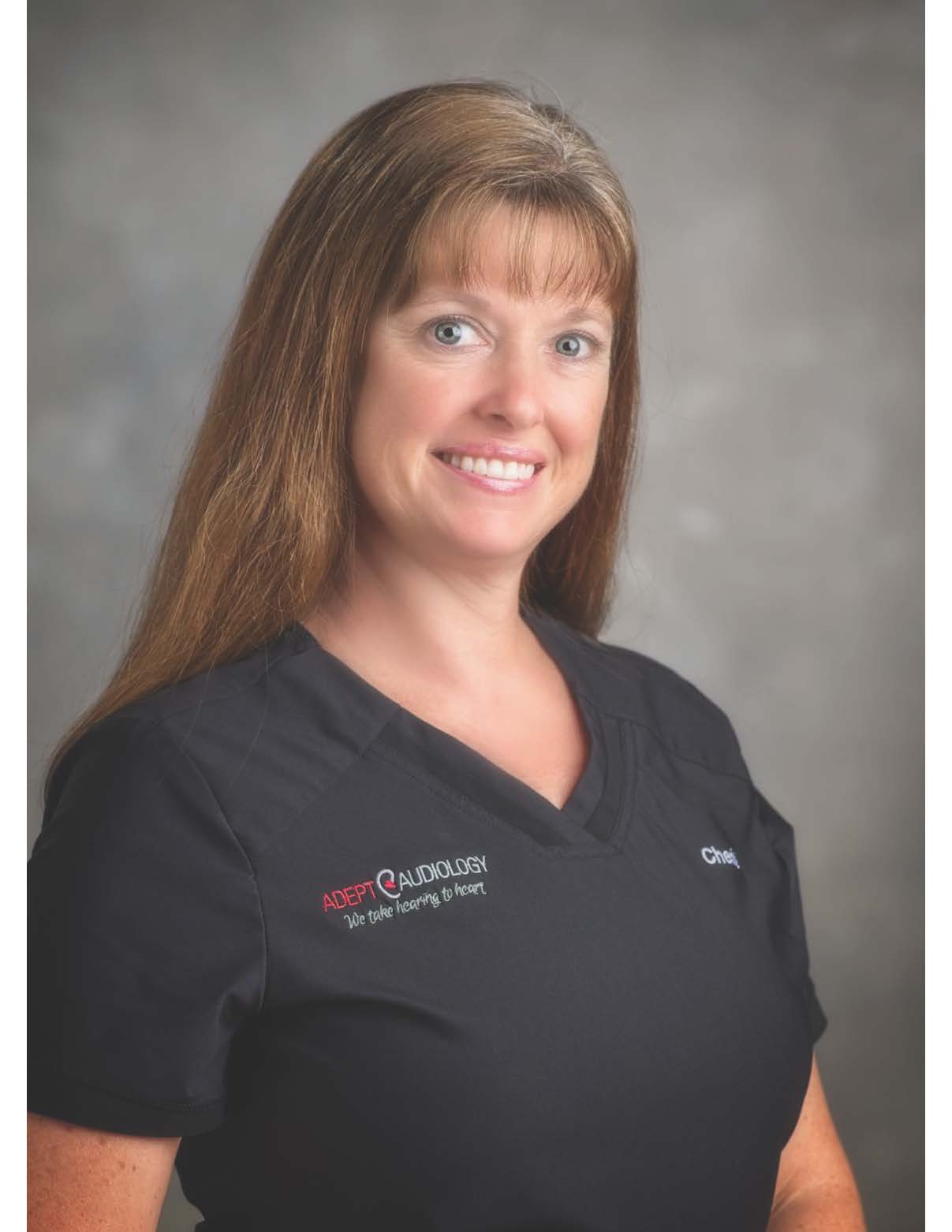 Cherie Vajdik
Front Desk
Originally from Illinois and moved here 21 years ago. Cherie has an associate degree in applied science. She has been mainly working with children as an aide and a nanny. Cherie has taught water aerobics and swim lessons. She is married with one daughter that is a 2nd degree black belt. Cherie loves being around people and making them smile. She also enjoys playing co-ed softball and golfing with her family.
"Thorough, competent, & technically knowledgeable"
This was my first visit here, after years of marginally satisfactory impersonal service at a previous audiologist in Sarasota. Dr Bride and staff were thorough, competent, technically knowledgeable and above all, caring about my hearing situation. My wife is happy that I have a new audiologist!
"100% satisfied"
100% satisfied, Dr Bride and the entire staff were profesional, knowledgeable, and made my wife and I totally comfortable throughout the entire experience. My wife absolutely loves her new Resound Qutro 9 hearing aids.We also acquired a TV box that I needed to contact Resound customer service to install. 5 stars for their customer service department, also. We highly recommend Adept Audiology.
"Dr. Lyndsey goes the extra mile"
I highly recommend Adept Audiology. Dr. Lyndsey is a very caring and knowledgeable audiologist. I have known her for years. I've been wearing hearing aids since I was 5 years old so I'm very particular about who I work with and trust. She worked with me until we found the right hearing aids for me. Dr. Lyndsey goes the extra mile even after your initial purchase. I love the convenience of her Lakewood Ranch office.
"Adept Audiology helped improve my home life"
Just moved from NJ with a pair of hearing aids that were not functional at all, to the point where I stopped wearing them.At the urging of my wife I called Adept Audiology, was tested, diagnosed, and I am now the proud owners of hearing aids that actually work!!!
The Doctor and her staff are very professional, knowledgeable and make you feel comfortable.
The call to Adept Audiology helped improve my home life as now my wife doesn't have to repeat things multiple times or scream at me.
Thank you Doctor and your very capable staff.
"Dr. Bride is not only good, she is AWESOME!"
I may not be able to hear like normal people; one reason I am very particular who I choose for my hearing assistance. Having this disability my whole adult life, I can ascertain who is both credible and knowledgeable about hearing disabilities; was grateful to find Doctor Lyndsey Bride at ADEPT Audiology. She keeps abreast of the fast innovations in her field of expertise; both medical and technology. If you want an expert to assist you in your disability, I strongly recommend Dr. Lyndsey Bride at ADEPT Audiology. If you are veteran, she very knowledgeably about many service related hearing disabilities. Dr. Bride is not only good, she is AWESOME!
"Such nice women, a pleasure to work with"
Dr. Bride is wonderful. She really knows and understands hearing issues in us older adults. Love the hearing aids she recommended. I find them comfortable to wear–I forget I have them on. I especially liked that she introduced a bit more about them at each subsequent visit instead of overwhelming me with all the details at one sitting. Eve, her secretary/receptionist is equally helpful and knowledgeable about hearing aids. She is able to fix, repair and replace batteries, battery doors, ear pieces easily. All in all a very positive experience for me. Such nice women, a pleasure to work with.
"Highly recommend Dr. Bride!"
Excellent service. I wad nade to feel very comfortable and confident with choices to correct my partial hearing loss. Highly recommend Dr. Bride!!
"So grateful"
Dr. Bride gave me back my confidence! I am so grateful. I highly recommend her and her wonderful staff!
"A great Audiology practice"
Lyndsey runs a great Audiology practice. I have depended on her for several years after discovering why I couldn't understand people talking to me. Made a huge difference and has supported the devices ever since.
"An amazing experience"
Awesome service and caring helpful staff. Dr. Bride is kind helpful and attentive to your needs. I had an amazing experience and highly recommend Dr. Bride and her staff.
"Truly wonderful!"
Super happy with Dr Bride. She spent time with me and got me into my 1st pair of hearing aids. She was truly wonderful!
"No pressure what so ever"
Great people professional and honest. No pressure what so ever.
"Service was outstanding"
Service was outstanding. Very friendly and welcoming. Highly recommended.
"Extremely helpful and patient"
I just visited Dr. Bride's office for a consultation and hearing aid fitting. She was extremely helpful and patient while working with me to find the best hearing aid for my lifestyle and budget. I would definitely recommend her for your hearing care needs.
"Genuinely concerned for her patients"
We have been going to Dr. Bride for several years now and she is the best! She takes her time with you and offers you the best options for your hearing needs. She doesn't try to oversell or sell you what you don't need. She is genuinely concerned for her patients. I would highly recommend her and her staff.
"Thorough, efficient, & gentle"
Dr. Bride is very professional, thorough, efficient, gentle, and has a sense of humor. I'm very pleased with her care and my new hearing aids.
"Very Caring and Helpful"
Working with Dr. Lyndsey Bride and Dr. Keely Huey was one of the best professional experiences in my life. No exaggeration. So kind! So knowledgeable! And very caring and helpful. I couldn't be more thrilled!! 🙂
Lakewood Ranch Location
11041 Gatewood Drive
Lakewood Ranch, FL 34211
Sarasota Location
1991 Hyde Park St.
Sarasota, FL 34239
We are open and taking appointments!
Sarasota Bay Club
1299 North Tamiami Trail
Sarasota, FL 34236
This location is only open to Sarasota Bay Club Residents.
11041 Gatewood Drive Lakewood Ranch, FL
1991 Hyde Park St Sarasota
Get in Touch
Ask a question or schedule an appointment below.